Flight 584 Big Band (5 Reeds, 8 Brass, 4 Rythm) will be playing swingin' big band jazz Wednesday, March 16, 2023, two sets, 7:30 and 9:00, at world-famous The Mayflower Club
We will be playing Big Band Swing influenced by many greats including Count Basie, with arrangements by Sammy Nestico, Billy Byers, Bob Florence, Terry Gibbs, Bill Holman, Quincy Jones, Billy May, Don Nelligan, Oliver Nelson, Mike Barone, Tommy Newsom, Tom Kubis, and many other greats. Yes. Many greats.
Free parking behind the club. Full bar. No minimum. To benefit The Mayflower Club, a $10 cover charge. The Mayflower Club — 11110 Victory Boulevard — South side of Victory about 800 feet west of Vineland Avenue — North Hollywood, California 91606 — 818 769 9805
$10 Cover Charge
"Boarding Time": Doors Open 7:00 p.m.
"Take Off": Band Plays 7:30 –10:00 p.m.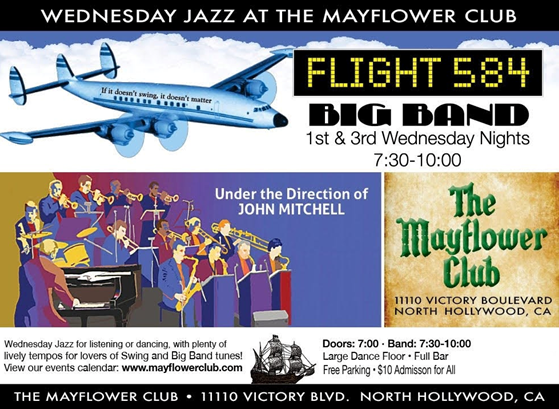 Questions? [email protected]