LA Winds Performs in Santa Fe – the audience goes wild!
Association of Concert Bands Conference on May 7, 2022 in Santa Fe, New Mexico!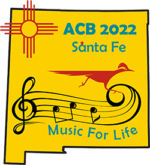 Congratulations LA Winds for a very successful concert at the ACB Conference! All members had a wonderful time in this captivating Southwestern town. Thank you to all who supported the Southwest Soirée and helped to make this tour a reality for the ensemble.
We played to a very appreciative standing room only crowd on:
1:30 PM Saturday, May 7th, 2022
Santa Fe Hilton, Mesa Ballroom
100 Sandoval Street, Santa Fe, NM 87501