The 95 piece Los Angeles Symphonic Winds is one of the most critically acclaimed and internationally recognized wind ensembles in the United States. Since 1983, the L.A. Winds have been a leading force in Southern California's cultural community. Praising the Winds for their "dedication to the highest standard of musical excellence" former Governor Arnold Schwarzenegger wrote: "As one of the great cultural treasures of Los Angeles, your band has enchanted audiences with fantastic performances, elegant melodies and graceful harmonies."
---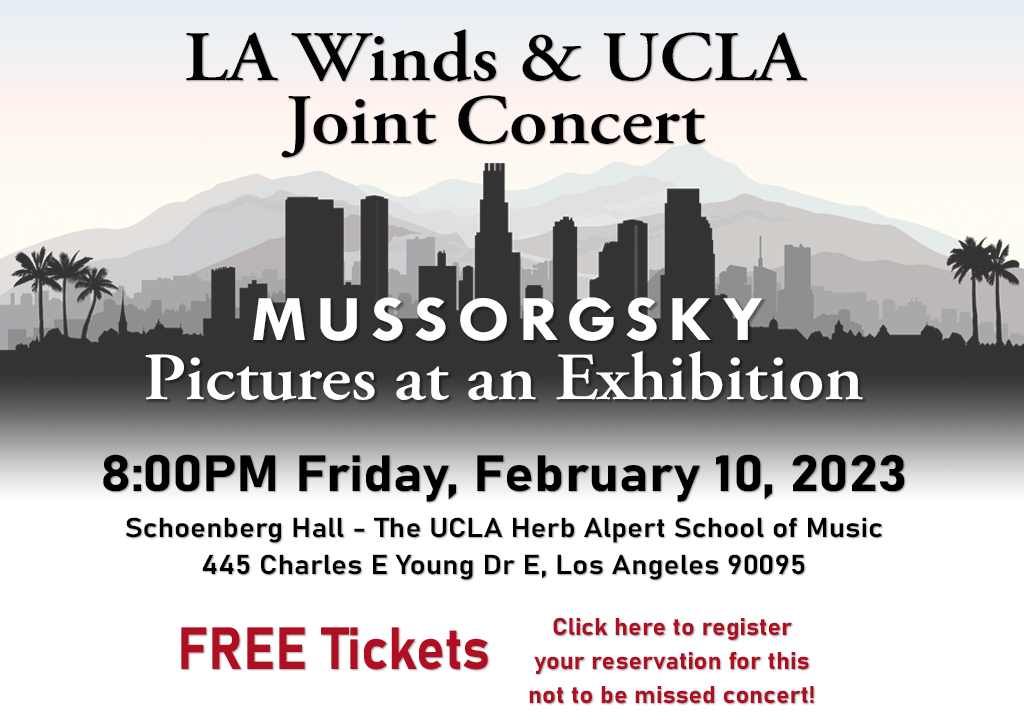 The UCLA Wind Ensemble, under the direction of Travis Cross, will be performing Zhou Tian's exciting "Petals of Fire," Kelijah Dunton's beautiful "Stillwater," and Adam Schoenber's evocative "Picture Studies."
Maestro Stephen Piazza will conduct the Los Angeles Symphonic Winds as they perform Mussorgsky's iconic "Pictures at an Exhibition" in UCLA's Schoenberg Hall.
---
2022-2023 Season – new venue: Janet and Ray Scherr Forum Theatre!

---
With Gratitude to our Los Angeles Symphonic Winds' Sponsors
Proudly supporting the arts in our community!
---
Keep Informed About all LA Winds News!
Sign up here to ensure you get early notice when tickets go on sale and more inside happenings with the LA Winds.

The Los Angeles Symphonic Winds
22647 Ventura Blvd #590, Woodland Hills, CA 91364 USA
Phone: 1-(818) 53-WINDS (1-818-539-4637)
The Los Angeles Symphonic Winds is a 501(c)(3) California non-profit corporation
Federal Employer Identification Number (EIN) 83-1314966
All donations are tax-deductible to the extent provided by law