Great Job Bakers | Winning Recipe
Congratulations to our Holiday Cookie Contest winner:
KAT CROSS
Salted Caramel Chocolate Chip Cookies
Way to go, Kat! You won by a LANDSLIDE!
---
Salted Caramel Chocolate Chip Cookies
Ingredients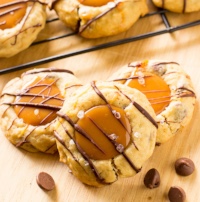 Your favorite chocolate chip cookie recipe
24 caramels, unwrapped (from 14-oz bag)
2 tablespoons half-and-half
1/3 cup semisweet chocolate chips, melted
1 teaspoon coarse sea salt
Directions
When cookies come out of the oven make a small indentation in the middle and allow to cool. Once cooled, spoon melted caramel into center of cookie to fill indentation and sprinkle a small amount of coarse sea salt over the caramel. After caramel has cooled and set, drizzle melted semi-sweet chocolate over the top of the cookie. Cookies can be left out for the chocolate to set or if you would like to speed up the process they can be placed in the refrigerator. When chocolate has hardened cookies are ready to be enjoyed!
---
Congratulations to our 2nd Place Winners

Debbie MacMurray: Chocolate "Mice"
Julia Damron: Meyer Lemon Almond cookies
---
With appreciation to all who generously contributed cookies:
And an extra warm thank you to Arlene Sobel for organizing and manning the cookie tables! She reported that the concert attendees thoroughly enjoyed all of your creations and donations — thank you!
Emily Warmann
Beatrice Luna
Deborah Mac Murray
Kathryn Cross
Steve Woloshin
Susan Winsberg
Susan Anderson
Mark Markus
Janis Holland
Paula Savastano
Leonard Daly
Lindsay Affleck
Ed Etayo
Freddi Rokaw
Carolyne Maraaghi
Lauren Silverman Appel
Julia Damron
Herb Silverman