Trombone Extravaganza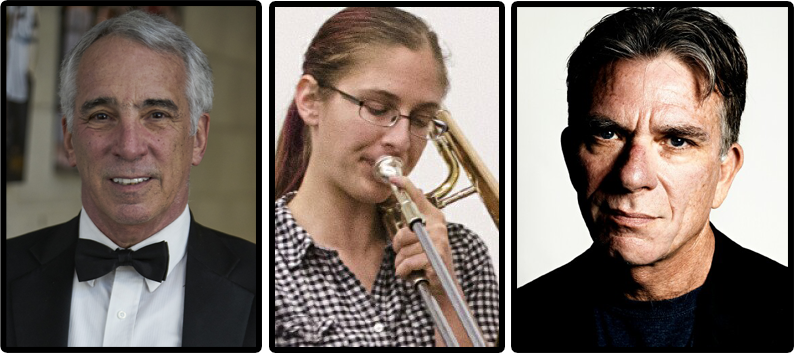 Today's "Summer Sounds of Your LA Winds" presentations offer you, our loyal subscribers and friends, a multi-faceted and unique look at one of the most time-honored instruments in the LA Winds family – the trombone.
We begin with a tribute to that legendary trombone virtuoso and Big Band leader, Glenn Miller, and a collection of his memorable hits that the LA Winds recorded in 2012. Many of you will recognize such nostalgic tunes as Moonlight Serenade, Pennsylvania 6500, Chattanooga Choo Choo and many others.
Click here for "Glenn Miller in Concert"
Next, we'll turn to something less traditional – the controversial 1989 track by Chris Isaak entitled "Wicked Games."  Although its initial release was not especially noteworthy, its inclusion in the 1990 motion picture "Wild at Heart," directed by David Lynch, brought it into Billboard's Top Ten list.  I've superimposed Lynch's unconventional "risqué" video to "Wicked Games" behind a very soulful and beautiful performance of this piece by LA Winds multi-talented trombonist, Mike Hicks. Mike is accompanied by his brother, Chris Hicks, on guitar and additional instruments.
Click here for the Mike Hicks (and David Lynch) version of "Wicked Games"
Our non-traditional look at the trombone through the prism of the LA Winds continues as we feature trombonist and composer, Andrea Vancura.  The LA Winds, as many of you recall, were privileged to present the world premiere of two of Andrea's works for Concert Band, "Pravda Vitezi" and "Hypnagogia." Andrea will introduce us to and play for us the fascinating technique known as "looping."
Click here for Andrea's presentation
Lastly, we'll combine something old with something new as we present a novel look at the short film, "The Black Imp," produced by the groundbreaking French director Georges Méliès in 1905. LA Winds alum, composer and woodwind specialist Frank Macchia provided some truly innovative updated music for this short film.  And trombone legend Alex Isles, who soloed with the LA Winds in Bill Cunliffe's beautiful "Trombone Concerto," is the featured trombone soloist in this unique collaboration.
Click here for Alex Isles in the Machia/Méliès collaboration of "The Black Imp"
Our December episodes of "Summer Sounds" will bring this series to a close as we present an eclectic look at both classical and jazz saxophones, the bassoon, and the traditional "Gaelic" flute on December 1.  On the December 15 episode, we'll present our annual "Holiday Spectacular" with classic works from the LA Winds Video library as well as brand new "Zoom" recordings of Holiday favorites.  And on January 6, we'll launch a fascinating series of live stream programs entitled "The Four Winds Wednesdays."  This will feature members of the LA Winds family in a live-stream format Wednesdays at 4:00 pm.  More info on this exciting program to come!
Thanks, as always, for your continued support!
Stay safe,
Stephen P. Piazza
Artistic Director
Los Angeles Symphonic Winds