Oboe Class and Oboe Style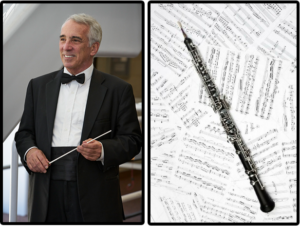 Dear Colleagues, Friends and LA Winds Supporters,
As your LA Winds moves into the Fall and Winter seasons, our "Summer Sounds" series will be concluding with 3 more entertaining, interesting and informative performances.
We'll open today's presentation with a performance of Alfred Reed's classic "El Camino Real," a work we recorded in concert just prior to our tour of China.  For that tour, we were asked to provide videos for our Chinese audiences to watch while we performed live. I have included this video — beautifully assembled by our co-principal saxophonist Caryn Rasmussen—for your enjoyment.
Note the beautiful oboe passage — this week's featured instrument — that begins around 2:59.
Click here to hear and view "El Camino Real"
Next, we present one of our newest outstanding musicians, Kelly Smith, in an informative introduction to the oboe. Kelly will also play a beautiful excerpt by Johannes Brahms. Then we'll put that excerpt in its original orchestral context. You're in for quite a treat!
Click here to see Kelly's presentation and the Brahms excerpt
Finally, we'll feature LA Winds former co-principal oboist, Jessica Wilkins, in the stirring finale to her 2017 performance of Rimsky Korsakov's oboe concerto.
Click here to see Jessica's amazing performance
Our upcoming mid-November series presentation will feature 2 of our outstanding trombonists — composer/performer Andrea Vancura and jazz, pop and classical trombonist Mike Hicks. We'll also include a segment featuring the LA Winds performing the big band sounds of trombone legend Glenn Miller. This episode will conclude with a number by one of today's great trombone virtuosos, Alex Isles — who, as many of you may recall, was one of your LA Winds featured soloists.
I also want to give you a heads-up on what promises to be an exciting live stream bi-weekly series your LA Winds will inaugurate in the new year.  More information to come!  Thanks, as always, for your continued support, and please continue to stay safe.
Sincerely,
Stephen P. Piazza
Artistic Director
Los Angeles Symphonic Winds