It's Tasty Trumpet Time!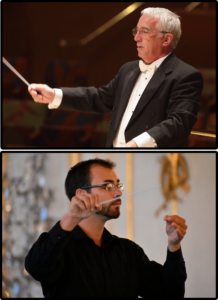 Dear Friends and members of the LA Winds Family,
In this, the 9th in our "Summer Sounds" series, we begin with one of the most memorable performances in the history of your LA Winds.  Former LA Winds principal trumpet player, Ron Barrows, is featured in a short clip of an unforgettable 2004 performance of Rodrigo's classic "Concierto de Aranjuez."  This concert took place in the main piazza of Recco, Italy (just outside of Genoa), and was one the highlights of your Winds' first European tour.
Click here for "Concierto de Aranjuez"
Next, LA Winds assistant conductor Paul Piazza will present you with his fascinating and informative introduction to the trumpet.  This video and its follow-up tutorial has already been viewed hundreds of times by LAUSD students as part of your LA Winds joint educational venture with LA Unified.
Click here for "Introduction to The Trumpet"
We'll close our trumpet extravaganza with trumpet virtuoso Jens Lindemann of the UCLA faculty and formerly with the Canadian Brass performing "Dreaming of the Masters."  Some of you long time supporters of the LA Winds may recall Jens' performance of this stunning work with us during our season at CSUN's Plaza del Sol Auditorium.
Click here for "Dreaming of The Masters"
Our next installment of "LA Winds" sounds will include our entire clarinet section performing highlights from Weber's classic "Concertino."  Then our very own Geoff Nudell will introduce you to the artistry and versatility of the clarinet.  I'll close this mini "clarinetfest" with my performance of one of Piazzola's favorite Argentinian tangos — along with some provocative visuals!
Thanks, as always, for your continued support!
All the best,
Sincerely,
Stephen P. Piazza
Artistic Director
Los Angeles Symphonic Winds