A Tango, a Rhythm and a Clarinet Classic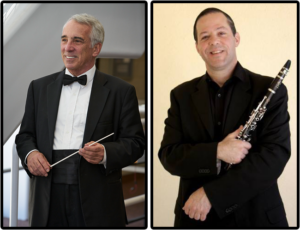 Dear Friends and members of the LA Winds Family,
Today's edition of "Summer Sounds of Your LA Winds" – now being extended through the end of the year – features our entire virtuoso clarinet section.  We'll also spotlight acclaimed LA Winds soloist, in-demand freelancer and noted educator Geoff Nudell.
We'll begin this multifaceted journey into the clarinet world with a spirited performance of one of Astor Piazzola's legendary tangos, which I performed in a recent live stream broadcast on the highly successful "Thursdays 4@4" series.  Some exciting visuals and videos accompany my performance.
Click Here to hear Maestro Piazza's lively "Tango" performance.
For nearly 20 years, woodwind virtuoso Geoff Nudell has been a source of inspiration to the entire LA Winds family.  He was featured, along with his former student SSgt Parker Gaims, in an earlier "Summer Sounds" segment in a spirited performance of Mendelssohn's Op. 13 duet. Geoff will introduce us to the clarinet as well as performing a fascinating rendition of Gershwin's "I Got Rhythm."
Click Here to hear Geoff Nudell's insightful presentation.
We'll close today's "Summer Sounds" episode with the LA Winds clarinet section performing Carl Maria von Weber's classic "Concertino for Clarinet."  Mike Armstrong leads the Winds as Geoff and I join the other eight LA Winds players in a true clarinet "Tour de force!"
Click here for "Concertino for Clarinet" 
Next month's "Summer Sounds" series will feature one of the Winds newest outstanding members, Kelly Smith, demonstrating one the woodwind families' most time-honored members— the oboe. Also featured will be former LA Winds oboe co-principals Mike Kibbe and Jessica Wilkins. Mike will be featured in Alfred Reed's "El Camino Real" and Jessica will be seen in her magnificent performance of Rimsky Korsakov's "Theme and Variations" for oboe and band.
Thanks, as always, for your continued support of the LA Winds and for sharing this "Summer Sounds" series with your on-line friends, family and co-workers. Stay well!
All the best,
Sincerely,
Stephen P. Piazza
Artistic Director
Los Angeles Symphonic Winds