The Dynamics of Percussion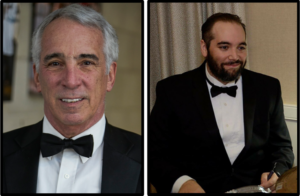 Dear Friends and Members of the LA Winds Family,
Today's "Summer Sounds of Your LA Winds" offers you an in-depth look at what is, without a doubt, the most visually exciting section of our world-class ensemble — the percussion section!
We'll begin with LA Winds alum Matt Howard (now principal percussionist of our very own Los Angeles Philharmonic) as he and his Philharmonic colleagues present an entertaining and virtuosic reading of "The States Medley."  This upbeat old-time xylophone and marimba classic is guaranteed to bring some much-needed smiles to our LA Winds family.
Click here for "The States Medley"
Next, our current principal percussionist, Brian O'Connor will take you on an interesting journey into the intricacies of the multi-faceted snare drum.  As many of you know, Brian is head of the instrumental music program at LAUSD's John Locke High School where his knowledge and enthusiasm have been a true inspiration to hundreds of young musicians.
Click here for the Snare Drum Presentation by Brian O'Connor
A wide variety of percussion instruments — sirens, gongs, temple blocks and more — are used by composer Edgar Varèse in his classic "Ionisation."  This fascinating 6-minute piece, composed in 1929, is a staple in the Percussion Ensemble repertoire and will give you an exciting visual look at the percussion family of instruments.
Click here for "Ionisation" by Edgar Varèse
We'll close with a brief portion of a 2014 interview with my LA Opera Orchestra colleague, Therese Dimond, who will discuss her status as a female percussionist as well as her musical admiration for one of LA Opera's most noteworthy and now controversial artists.
Click here for Therese's insights into the world of the female percussionist
In our next video, Paul Piazza will present for you his introduction to the trumpet.  This video and its follow-up tutorial have already been viewed hundreds of times by LAUSD students as part of your LA Winds joint educational venture with LA Unified School District.  In addition, we'll feature a short clip of former LA Winds principal trumpet, Ron Barrows, in an unforgettable performance of Rodrigo's classic "Concierto de Aranjuez." This performance in Recco, Italy (just outside of Genoa) was one the highlights of the Winds' first European tour.  We'll close our trumpet extravaganza with trumpet virtuoso Jens Lindemann of the UCLA faculty and formerly with the Canadian Brass performing "Dreaming of the Masters."  Some of you may recall Jens' performance of this stunning work with us during our season at CSUN's Plaza del Sol Auditorium.
Stay safe everyone and, as always, thanks for your continued support of your LA Winds!
All the best,
Sincerely,
Stephen P. Piazza
Artistic Director
Los Angeles Symphonic Winds