LA Winds All Stars – Composer Charles Fernandez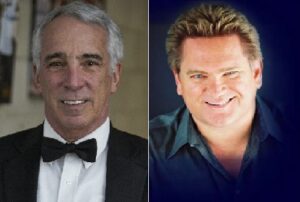 Dear Friends and Members of the LA Winds Family:
This installment of your LA Winds "Summer Sounds" series features our Emmy award winning composer, arranger, conductor and performer, Chuck Fernandez—truly one of the LA Winds brightest stars for nearly 20 years!
We are featuring three of Chuck's most inspiring works for Band including his "Windsor Processional," a work that in its sonic and regal majesty pays tribute to the time Chuck spent at the Royal College of Music in London.  This was one of the works we performed at the world-famous Midwest Clinic in Chicago in 2004.  Chuck conducts this stirring 2010 Los Angeles performance.
Click here to view "Windsor Processional" 
Next up is one of my personal favorites, "Persepolis Bazaar," an evocative work conjuring up the sights and sounds of a day at a Middle Eastern bazaar –  from the early morning reflective prayer to the day-long songs, dances and excitement of ancient Persia's ceremonial capital.
Click here to view "Persepolis Bazaar"
The next piece, "For Sir David," is one of Chuck's most recent works for concert band.  This inspiring work was commissioned by California State University, Northridge to honor their internationally acclaimed former Wind Ensemble conductor, Sir David Whitwell.  It makes brilliant use of some of Sir David's favorite compositional motives and is a fitting tribute to one of the Wind Band world's most esteemed figures.
Click here to view "For Sir David"
In our next installment of the "Summer Sounds" series, which we'll release on August 15, you'll begin to meet some of the Winds' "superstar" musicians as they introduce themselves and their instruments to you.  We'll also feature musical selections from the Winds extensive catalogue of video recordings, so you can hear these LA Winds stars in performance.  We'll begin these presentations—which will also be available to students in the LAUSD—with our horn co-principal Jason Beaumont and his colleagues Joy Armstrong, Jennifer Bliman and Chris Wilson.  I'm sure you'll find this series both entertaining and informative.
Many thanks for your continued support and feedback!  I want to thank all of you who continue to watch this important series of LA Winds presentations and share them with your family, friends and social media contacts.  We've had nearly 1,500 views of our videos since we began this series in June.  If you are enjoying the Summer Sounds of Your LA Winds series, we invite you to share us with all of your friends and family by passing this email to them, and by sharing this on your favorite social media platforms like Facebook, Instagram, and Twitter. And if you missed any past issues of Summer Sounds, you can see all of the Summer Sounds videos here.
As we move forward, let me once again thank you for continued support and ask you, as always, to stay safe – wear masks, keep distance, wash hands often — as we await the day when live music doesn't have to be heard on a phone, tablet, laptop, computer or TV!
Sincerely,
Stephen P. Piazza
Artistic Director
Los Angeles Symphonic Winds