Dear Friends and Members of the LA Winds Family: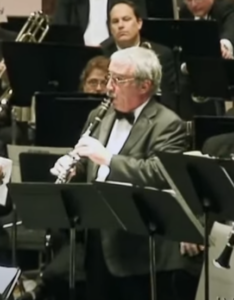 The third installment of the "Summer Sounds of Your LA Winds" series begins with a heartfelt video elegy to those who have been part of the on-going struggle for racial equality and the suffering brought on by the COVID-19 pandemic.
Third Video Showcase - Elegy for Our Times
I am performing an arrangement of the Adagio movement from J.S. Bach's g minor Violin Sonata to express the profound sadness we all feel at the tragic consequences that too often have accompanied these monumental movements and events.  In the first part of the video I've included photos of such well-known men, women and children as Nelson Mandela, Maya Angelou, Martin Luther King Jr., Lyndon Johnson, Nina Simone, Muhammed Ali, Cecil Murray, Rodney King, Breonna Taylor, George Floyd, his daughter Gianna, Martin Luther King III and his wife Arndrea, and their daughter Yolanda. I have intentionally left the 2nd half of the video (beginning at 1:55), which deals with the COVID-19 pandemic, without specific historically recognizable figures to underscore the tragic universality of this dreaded virus.  The only exception to this is the inclusion of the famed jazz pianist and educator, Ellis Marsalis.
The second video in this third installment features two artists who, over the course of over 25 years, have helped bring your LA Winds to our current level of international recognition. Geoff Nudell and SSgt. Parker Gaims are presented in their virtuoso March 2017 performance of Felix Mendelssohn's Concert Piece No. 2 for clarinet and basset horn, op. 114. I'm sure you'll enjoy their incredible artistry. Mendelssohn Concert Piece No. 2
And in our next installment, to be released on July 15, you'll be dazzled by saxophonist Dale Underwood whom the Washington Post hailed as "The Heifetz of the Saxophone."  Thanks, as always, for your continued support, and we look forward to your comments and suggestions as we prepare for our January 2021 re-opening festivities!
We'd love to hear your feedback on our Summer Sounds series.  Please send your thoughts and comments to tickets.lawinds@gmail.com.
Best Regards,
Stephen P. Piazza
Artistic Director,
Los Angeles Symphonic Winds