A Message from the Maestro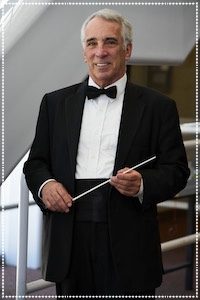 Dear LA Winds Family,
Let me begin by thanking all of you for making the "Maestro & Mozart Birthday Dinner/Concert" such a rousing success! It was a birthday party I will never, ever forget. Nearly 200 subscribers, donors, musicians, cooks, servers, board members and friends of the Winds joined in a truly memorable celebration. Special thanks to members of the Song of Angels Flute Orchestra and their director—our very own Chuck Fernandez—along with the nearly 15 select members of the LA Winds who helped provide the musical entertainment.
All the Winds will be back on stage, however, when we perform for our upcoming Sunday, March 3rd concert taking place at 3:30 pm in the beautiful Performing Arts Education Center at Agoura High School, (28545 Driver Ave., Agoura Hills, CA 91301). We'll feature a tribute to noted composers of Italian heritage—past and present—who have left their mark on our eclectic musical landscape. Works by Verdi, Puccini, and Rossini, as well as contemporary composers Rosario Galante, Norman Dello-Joio and Frank Ticheli, will be performed. Star soprano Sarah Salazar from the Center Stage Opera will be our featured soloist.
After the concert, members of the "Maestro's Circle" will be treated to the annual "Thank You" dinner at the Marmalade Café in Calabasas (see flyer below). Even if you're not a "Circle" member, come by Marmalade to say "Hi" to me, the Winds members, and our soloist. Marmalade has promised to donate 15% of our bills to the Winds' Annual Fund, so you'll not only enjoy good food and good company, but you'll also contribute to the Winds' ongoing success. Finally, as we begin the 2nd part of our spectacular 2018 – 2019 season, allow me, on behalf of my colleagues in the band and the Operations Committee, to wish you and yours a happy, healthy and prosperous 2019.
See you at 3:30 pm on March 3rd, at Agoura High School!!!
Please present a printed or digital copy of this flyer to your server at the Marmalade Cafe in the Calabasas Commons (4873 Commons Way, Calabasas, CA 91302) so the LA Winds can benefit by receiving 15% of the funds from the amount of your delicious meal!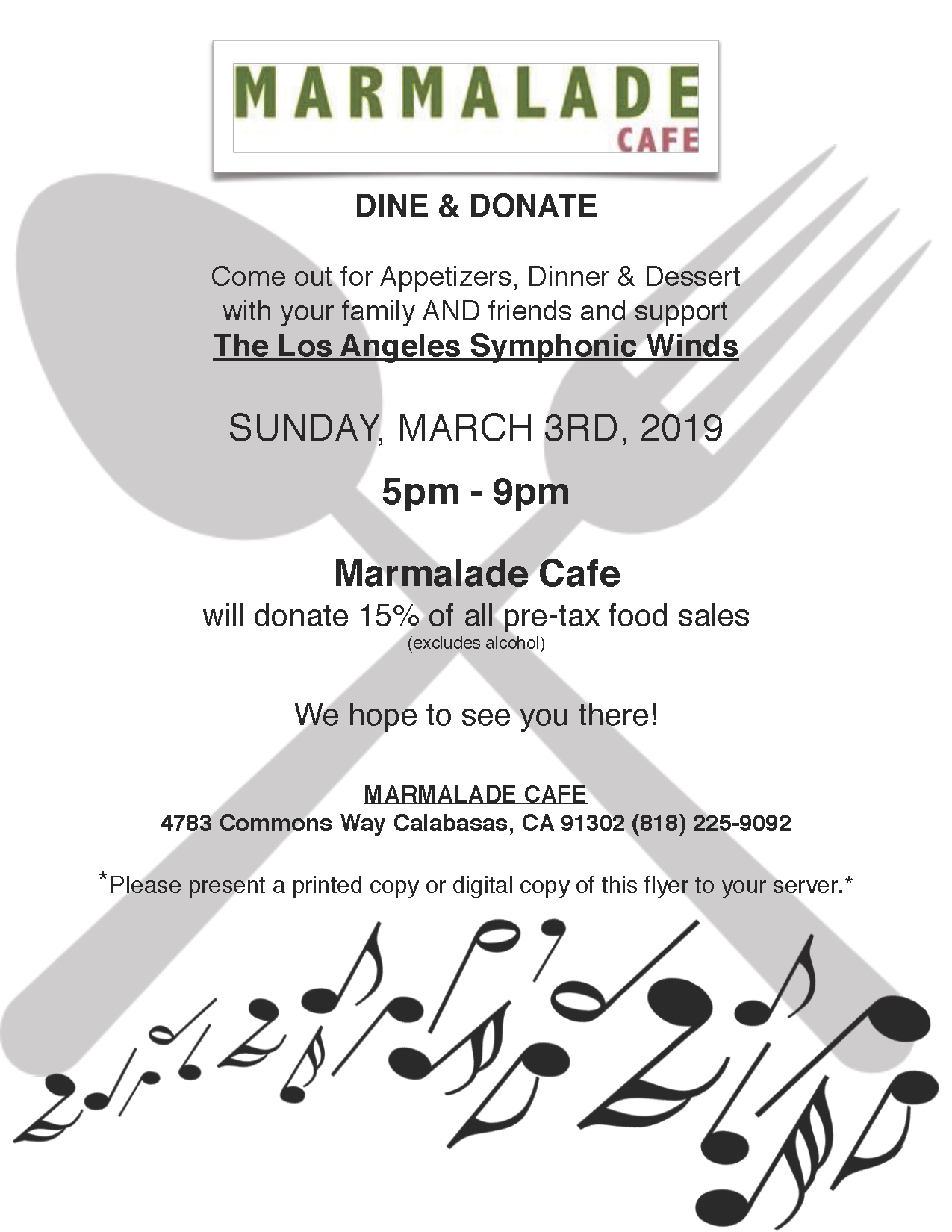 Yours musically,
Sincerely,
Stephen Piazza, Director, Los Angeles Symphonic Winds