A Message from the Maestro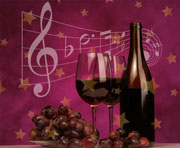 Stars of the LA Winds



Sunday, March 25, 2018 at 2:30 pm
Agoura Hills HS Performing Arts Education Centre
28545 W Driver Ave, Agoura Hills, CA 91303
Dear Friends and Members of the LA Winds Family,
Thank you so much for sharing your Valentine's weekend with us last month!  I'm sure you'll agree that our February 11th concert was among the finest LA Winds concerts in our group's history. Not only did our instrumentalists give us exciting and heartfelt renditions of "Romeo and Juliet" and "Samson and Delilah", but our vocal soloists, Courtney and Christina, turned the afternoon program into an unforgettable event.  It goes to show you how much star soloists can make a concert a truly memorable experience. With that in mind, I want to remind you that our March 25 concert, "Stars of the LA Winds" will feature equally memorable soloists drawn from the ranks of your very own LA Winds.
Beginning with a stirring antiphonal rendition of "Fanfare Canzonique" featuring our brass section, our "Stars" program continues with performances by our trumpet and flugelhorn soloist Gabriel Velasco, piccolo soloist Debbie MacMurray, and alto saxophonist Caryn Rasmussen. The first half closes with the world premiere of Andrea Vancura's fascinating journey to the fringes of sleep and wakefulness—"Hypnogogia" followed by LA Winds staff arranger, Charles Fernandez and his rendition of Shostakovich's "Galop". The second half of our program consists of 2 works sure to please our long-time subscribers as well as those of you who are new to the LA Winds family. We'll perform the blues and rock movement of  Frank Bencriscutto's "Symphonic Jazz Suite" featuring Greg Anderson and Mark Marcus. And our "stars" concert closes with Michael Daugherty 's powerful and fun-filled tribute to Superman—"Red Cape Tango"—part of his "Metropolis Symphony".  Many of you will recall Daugherty's exciting and cutting edge "Raise the Roof" which LA Opera's timpanist Therese Dimond performed with us last season.
Following the concert, join us at Agoura's own Boar Dough Wine Bar at 5015 Cornell Rd Unit G, Agoura Hills, CA 91301. Come and meet the "Stars" at this no-host reception. Those of you who joined us for our "Oktoberfest" or "Maestro's Circle" receptions know how much fun it is to celebrate with your LA Winds. I'd love to meet and talk with you at this fun-filled wine tasting reception following the concert. Without your continued support, the LA winds would not have become one of the valley's true cultural icons—and I'd like to personally thank you for your support.
If you need additional tickets, they are available through our LA Winds ticket manager Melinda Benane at melinda.lawinds@gmail.com.  Advance sales tickets are available for $20. Tickets at the door are $25.
See you under the "stars" at our 2:30 concert on Sunday, March 25th in Agoura!
Sincerely,
Stephen Piazza, Director, Los Angeles Symphonic Winds